Commercial Water Damage Restoration in Central New Jersey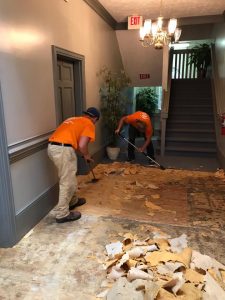 There is far more on the line than your comfort when a disaster strikes your commercial property. Even something as simple as a sewage backup or mold infestation could stall business and hurt your bottom line. At 911 Restoration, we understand. We work quickly to restore your property and get you back to work.
We provide 24-hour emergency service for water damage restoration, sewage backups, and other urgent issues. Our commercial restoration technicians are here for you every hour of the day or night, even on holidays. And for your added peace of mind, we guarantee an arrival time of 45 minutes or less.
Our technicians handle all your commercial restoration needs, including:
Water damage restoration

Mold removal

Sewage cleanup

Fire damage restoration

Puff back cleanup

Disaster restoration
As a locally owned and operated company, 911 Restoration of Central New Jersey appreciates business owners like you. You keep our economy strong, and your property is an essential part of this beautiful community. When our commercial restoration technicians arrive, you can trust them to treat you and your property with respect. We work with total transparency, genuine urgency, and a focus on providing you with a Fresh Start.
911 Restoration of Central New Jersey is licensed, insured, bonded, and backed by the resources of a nationwide company. Our commercial restoration technicians are IICRC certified and extensively trained. They handle every part of the restoration process, from cleanup to structural repairs to mold remediation.
No matter what you've been through, we've got you covered. Choose 911 Restoration for commercial restoration in Trenton, Princeton, and the surrounding area. 
24-Hour Emergency Water Damage Restoration in Trenton Area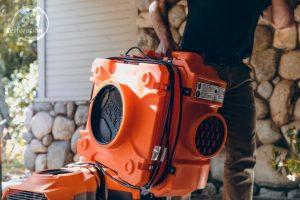 Water damage is constant in Edison, Trenton, Middlesex, and throughout the region. Between floods, blizzards, storms, and hurricanes, commercial properties are always vulnerable. That's why we make sure our water damage restoration technicians are always standing by, ready for your call.
Whether it's a sewage spill, pipe burst, or storm damage, count on 911 Restoration. Our water damage technicians work swiftly to minimize damage. They provide a free visual inspection (for property owners only). After they explain their plan for water damage restoration, they move fast to pack out and store at-risk inventory and belongings. Then, they eliminate the water through services such as water extraction, boarding up, storm repair, roof repair, and more. Once your property is dry again, they inspect for structural damages as well as mold. If they find any problems, they provide the solutions personally.
In every service we offer, our goal is to give you a Fresh Start. Whether we're performing fire damage restoration or mold decontamination, we do more than cleanup. We repair, replace, and restore every damaged surface and structure. In the end, you're left with a commercial property that feels brand new… and you didn't even have to hire multiple contractors.
At 911 Restoration of Central New Jersey, we understand the high standards you set for yourself, your business property, and your contractors. Trust us to meet those standards with expert commercial restoration. For a business property that feels brand new, call 911 Restoration today.
Free Commercial Restoration Insurance Consultation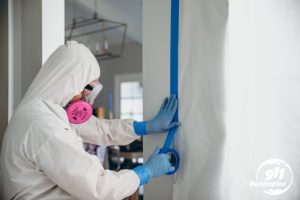 As a business owner, you don't have time for a crisis and all the tedious paperwork that comes with it.
We get it. And we've got it taken care of.
Not only does 911 Restoration work with all insurance providers, but we make sense of your policy for you. You don't have to spend hours on the phone or deciphering the small print. Instead, one of our commercial restoration experts reviews your coverage, then sits down with you for a free insurance consultation. They explain what services you need and which of those services your provider pays for. This way, you can go into the restoration process with eyes wide open.
Beyond the insurance consultation, our staff assists you with claim filing. They're there to guide you through inventory and loss itemization. Finally, we bill your provider directly. You never have to think about a dime you're not responsible for.
When you've been struck by fire, water damage, or any other disaster, your only focus should be on sustaining your business. Let us take care of your property, from cleanup and restoration to insurance paperwork.
We're proud to serve our local businesses with commercial restoration in Trenton, Camden, Cherry Hill, and beyond. We believe companies like yours make Central New Jersey great. That's why we work diligently to help you keep those doors open. For professional commercial restoration you can trust, call 911 Restoration today.