Fire Damage Restoration in Central New Jersey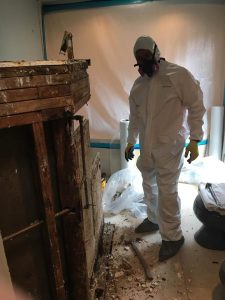 If you've had a property fire or a puff back, your greatest asset is at stake. Most likely, your mind is reeling as you try to figure out who to call, how to recover, and what it will cost. Don't worry. Take a deep breath and call 911 Restoration New Jersey. We'll take it from there. Call us at 201-241-3113 and allow us to offer you a free visual inspection.

Our technicians provide expert fire cleanup and smoke removal in Trenton, Princeton, and throughout Central New Jersey. Every member of our staff is trained and  IICRC certified to bring you full-service solutions. We do more than fire cleanup and smoke damage repair. We offer full property restoration so you can turn this disaster into a Fresh Start.
Beyond fire damage restoration and puff back cleanup, we work hard to give you peace of mind. Consider us your fire information center: a resource to answer all your questions. We understand how overwhelming it can be when you've just been through a disaster and don't know the way forward. Our friendly fire damage restoration specialists are here to explain everything. From insurance coverage to the cleanup process, they clarify everything.
911 Restoration of Central New Jersey is owned and operated by your very own neighbors. Whether you own a home or  business, we consider your property an important part of this beautiful community. That's why you can count on our fire and puff back cleanup workers to treat it as if it were their own. 911 Restoration is insured, licensed, and bonded, and we work with all insurance providers.
For fire cleanup in Trenton, Camden, Middlesex, and beyond, call 911 Restoration of Central New Jersey at 201-241-3113.
The Fresh Start Fire Cleanup Company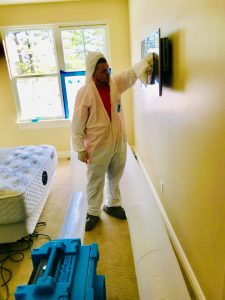 If you've just been through a property fire, you may not even be able to fathom a Fresh Start right now. But our smoke removal and puff back cleanup technicians know how to get you through this disaster and on to a new beginning. 
Their first order of business is to offer you a free fire damage assessment. They evaluate the extent of the destruction and explain the services your situation requires. Once you're all on the same page, they begin the restoration process.
First, they check the area for any unharmed belongings that could be damaged during fire cleanup. They pack out these items and store them away to prevent further destruction. From there, services vary depending on the needs of your situation. Smoke damage is common, so it's likely that the team performs soot, ash, and smoke removal through sodablasting. This technique often helps eliminate odor as well. However, odor-causing particles may become embedded in porous, smoke damaged surfaces. In this case, our puff back cleanup experts use sealing techniques to ensure permanent odor removal.
The crew conducts smoke removal for every surface on your property. That includes your furniture and dishes. They also handle all structural repairs so you don't have to call another contractor to help you rebuild.
Of course, fire damage restoration isn't always limited to smoke damage and destroyed structures. Some property owners also deal with flooding from fire hoses. In this case, you'll be glad to know our fire cleanup crew is also certified in water damage restoration in New Jersey. They handle water extraction, structural drying, and even mold remediation in New Jersey.
At 911 Restoration, our goal is to make your home or business feel brand new again. Today's disaster doesn't have to define your property forever. For a full recovery from fire and smoke damage, call 911 Restoration of Central New Jersey at 201-241-3113.
Free Insurance Consultation for Fire Damage Restoration in Trenton
If you have no idea what fire cleanup services your insurance covers, don't worry. We figure it out for you and walk you through your coverage during a free insurance consultation.
The fire damage restoration process can be complex, and each property owner's situation is one of a kind. You may need smoke removal, roof repair, carpet replacement, water cleanup, or a host of other services. Some of these may fall under your insurance policy, and some may not.
When you turn to 911 Restoration for fire cleanup, one of our smoke damage experts explains the needs of your situation. They go over your policy, clarifying which expenses your provider pays and which—if any—fall to you. Then, we stick with you through the sometimes lengthy process of filing a claim. Our experts assist with inventory and loss itemization. They file your claim for you. Then, we bill your provider for their expenses, so you're never stuck playing the middleman.
Fire and smoke damage can be overwhelming and panic-inducing. But with 911 Restoration on your side, you don't have to go through it alone. We do everything possible to make fire damage restoration and smoke removal swift and painless. Call us today. Your Fresh Start is just around the corner. Call us at 201-241-3113.