Sanitization Services in New Jersey
The entire world now stands united around one common goal:
Contain the coronavirus pandemic so we can work toward a solution.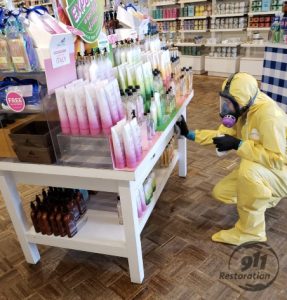 As we know all too well, this is much easier said than done. Coronavirus is extremely contagious and resilient. Research suggests the virus can live on varying surfaces for five hours to three days. To make matters worse, it is possible for humans to carry the virus for as long as 14 days without exhibiting any signs of infection. This means the common sense tactics we've always used to avoid spreading the cold and flu are not enough to slow the spread of coronavirus. We must live our lives as though we could be infected. For property owners, this means sanitizing your home or business as though every person who passed through there carries the coronavirus virus. Call use at 201-241-3113 and see how we can help.

While many initially compared coronavirus to the common flu, it is clear coronavirus carries a much higher risk of widespread damage. It is true that coronavirus is not deadly for most people. But for vulnerable populations, coronavirus could lead to complications such as kidney failure, severe acute respiratory syndrome, pneumonia, and even death. Those who are young and healthy should take extra precautions for the sake of those who are not.

This includes thorough sanitization and disinfection of all living and work spaces.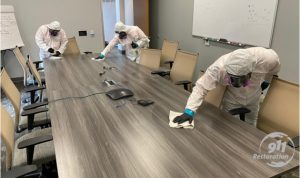 If you own a retail store, an office, or any other commercial facility, you carry a tremendous responsibility to your community. Even in times of social distancing, every customer or employee goes home to their family or roommates. They may live with an elderly parent or an asthmatic child. They themselves may even be immunocompromised.
To provide peace of mind for your customers, staff, and family during this difficult time, consider hiring a professional sanitization crew. 911 Restoration New Jersey can provide disinfection solution experts who are trained to follow CDC and EPA protocols. Our technicians serve both residential and commercial properties. They handle everything from home disinfection to deep office cleaning to sanitizing warehouse facilities. They serve you with their full attention and compassion, recognizing what is at stake for your family, your career, and our community. You can count on our team to communicate clearly and answer your questions honestly. 
In times like these, it's heartening to see our New Jersey family pull together and serve one another however we can. At 911 Restoration, we're eager to help you find reassurance and the strength to believe in a Fresh Start. If you need professional sanitization and disinfection for your home or business, please call mold removal company New Jersey today at 201-241-3113.