Water Damage in Central New Jersey
911 Restoration of Central New Jersey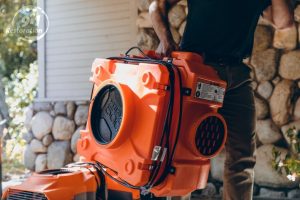 911 Restoration of Central New Jersey proudly provides 24-hour emergency service and a Fresh Start for local property owners. We offer comprehensive restoration throughout Trenton, Camden, and beyond. No matter what you need—water damage restoration in New Jersey, mold remediation, fire cleanup, or something else—make 911 Restoration the first number you call. Call us at (201) 241-3113 and allow us to offer you a free visual inspection.

Our IICRC certified restoration crew are highly trained in everything from water cleanup to roof repair. They are certified mold removal experts. They eliminate sewage contamination safely and swiftly. In the event of a fire or puffback, you can count on our team for fire damage restoration, smoke removal, and full property reconstruction. In every every crisis, our experts turn an at-risk asset into a brand new property.
At 911 Restoration of Central New Jersey, we offer a Fresh Start with our comprehensive selection of property damage restoration services, including but not limited to:
Whether you're a Central New Jersey homeowner or business owner, 911 Restoration of Central New Jersey is your Fresh Start! We'll communicate with you throughout the entire process, help answer questions related to insurance, and restore your property to its pre-damaged condition. One of our IICRC-certified teams is dispatched within 45 minutes of your call! Contact us today, and one of our friendly representatives will assist you in finding the nearest Central New Jersey location.
Service area map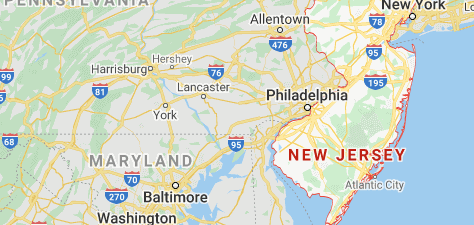 We service both homes and businesses in Middlesex and the surrounding communities. Our emergency restoration technicians are on-call 24 hours a day, every day of the year. We guarantee an arrival time of 45 minutes or less, so you're never left waiting and worrying.
911 Restoration is a nationwide business, though your local branch is owned and operated by your neighbors in Central New Jersey. We take pride in our community and work hard to preserve the homes and business that make our region beautiful. We also care about the wellbeing of our neighbors, which is why you can count on our crew to provide peace of mind. We communicate clearly, starting with our free visual inspection (for property owners only). 911 Restoration works with all insurance providers and offers a free insurance consultation. We are licensed, insured, and bonded. Call us at (201) 241-3113 and see how we can help.

Whether you need mold remediation in Camden or have water damage in Trenton, your greatest asset is on the line. Don't settle for basic cleanup. Choose the comprehensive service and expertise of 911 Restoration of Central New Jersey.
ran burstin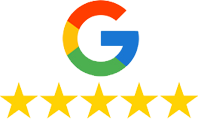 "Thank you so much David and Rami! My house was flooded after the rain, and these guys made my life easier. They came after 45 minutes and helped me out. Very professional crew!"
Water Damage Restoration
Between wild winter storms and frozen pipe bursts, there is always a risk of water damage in Trenton and the surrounding area. Fortunately, 911 Restoration is here 24 hours a day, every single day of the year.
When disaster strikes, you can count on our water damage restoration crew to arrive in 45 minutes or less. They work quickly to stop the flow of water and eliminate all moisture from your property. Our emergency water damage services include boarding up, storm repair, roof repair, water extraction, and more. We use professional blowers to dry your flooded basement. Our flood cleanup crew even repairs all damage and handles mold remediation.
For every water disaster, big or small, turn to 911 Restoration of Central New Jersey at (201) 241-3113. We don't just dry your property. We give you a Fresh Start.
Sanitization Services & Disinfection Solutions
Panic and confusion is rampant in the current times we live in. The coronavirus has spread around the world. Cases are growing each day as more and more tests are coming in. Individuals are practicing social distancing, people are quarantine themselves and businesses are taking massive losses. Regular everyday companies such as restaurants, bars, banks, and retail companies are being forced to shut down because of COVID-19. 
At this time of crisis, it's important to stay informed and practice healthy hygiene guidelines. At 911 Restoration of Central New Jersey, we know the experience you're going through because we are dealing with it as well. We want to help ease the burden on our customers' minds. If you have a commercial or residential property, we are now offering professional hoboken sanitation services. Our highly trained team will sanitize your property as much as possible and give you the peace of mind that you deserve. The team follows all CDC and EPA protocols to ensure that your property gets cleaned properly. We're all in this together. 
Mold Removal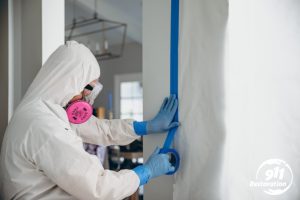 A mold infestation is far more dangerous than it may seem. The longer you go without mold removal, the more the infestation eats away at your property. Not to mention, most varieties of mold release harmful particles into the air you breathe.
Call New Jersey mold removal to keep yourself, your family, or your colleagues safe. Our mold remediation experts conduct a thorough mold inspection to identify all hidden colonies on your property. They use the safest and most effective mold removal methods to decontaminate your space without spreading mycotoxins. Then, they complete their work with structural dehumidifying to prevent a repeat infestation.
This multi-step process is essential for ensuring your mold problem is gone for good. Resist the temptation to handle mold removal using household cleaners. Such methods are ineffective and do nothing to protect you and your property in the long term.
Instead, depend on the IICRC certified mold specialists at 911 Restoration. Call us now at (201) 241-3113 for a comprehensive mold inspection.
Sewage Backup and Cleanup
When you have a sewage backup, your beloved property feels contaminated. That sense of beauty you worked so hard to cultivate is long gone. Don't worry. 911 Restoration of Central New Jersey is here to make your home or business your own again.
We provide full-service sewage backup cleanup in Trenton, Cherry Hill, and the surrounding area. Our technicians offer an emergency response time of 45 minutes or less, whether you call at noon or 2:00 in the morning. When our sewage cleanup crew arrives on the scene, they pack out and store at risk belongings and extract the sewage. They sanitize the area to eliminate disease-causing bacteria and dry your property to its core.
Finally, our sewage backup experts test for structural damage and conduct a mold inspection. If they discover any sewage damage, they personally handle repairs and mold decontamination.
Believe it or not, this nasty crisis can turn into a Fresh Start with 911 Restoration. Call now and breathe easy.
Fire and Smoke Damage Restoration
Call us now for smoke removal, puffback cleanup, or fire damage restoration in Trenton and beyond.
Our fire cleanup crew turns devastating destruction into a new beginning. Fire damage restoration services include sodablasting for soot and ash removal, permanent odor removal, and structural repairs. Our technicians clean every surface on your property, including furniture and dishes. They personally restore all damaged structures and even handle water damage restoration after fire hose flooding. 
Beyond the physical work of fire damage restoration, we work hard to put your mind at ease. We know how overwhelming fire and smoke damage is, and we're dedicated to providing you with solutions for all your concerns. Consider us your fire information center, equipped with answers to your questions, no matter how big or small. We provide a free fire damage assessment, a free insurance consultation, and constant, clear communication.
If you need fire restoration Medford, call the contractor who cares about you and your property. Call 911 Restoration of Central New Jersey at (201) 241-3113.
Disaster Restoration
There's no telling when or how disaster will strike… especially in New Jersey where blizzards and hurricanes are all too common.
The good news is that local property owners can enjoy peace of mind knowing 911 Restoration is one call away. We're here for you 24/7/365 with a guaranteed arrival time of 45 minutes or less.
Our disaster restoration technicians have completed rigorous training to provide comprehensive service in any crisis. From flooded basements to fire destruction, they have the skills necessary to make your property new again. We also work with all types of insurance to make restoration affordable and stress-free. Our disaster restoration crew is sensitive to your unique situation and treats you with the compassion and focused attention you deserve.
Call us today and let us turn this nightmare into a Fresh Start.
Commercial Restoration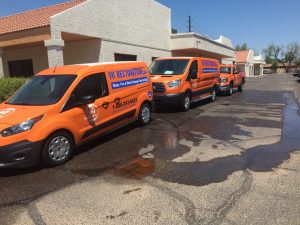 As a business owner, your property damage brings unique challenges. Whether you're worried about liability issues or having to close your doors for reconstruction, we understand. And we're here to help you get through this setback quickly and with as little expense as possible.
Our disaster restoration and water damage experts are familiar with the needs of your property. They also know that your success depends on high standards of appearance and structural integrity. That's why our crew goes above and beyond basic water damage restoration, mold remediation, and fire cleanup. They focus on repairing every damaged structure and eliminating every trace of mold, so you can be sure your commercial building is strong and healthy.
We also provide a free insurance consultation and claim filing assistance. You have enough to do to keep your business running smoothly through your property crisis. Let us take care of the insurance tedium.
At 911 Restoration of Central New Jersey, we value the businesses that keep our local economy strong. Count on commercial restoration Bridgwater for fast, full-service commercial restoration in Trenton, Piscataway, and beyond. Call us at (201) 241-3113 and see how we can help.

Serving the communities of Adelphia, Allentown, Allenwood,Asbury Park, Atlantic Highlands, Avenel, Avon-by-the-Sea, Belford, Belle Mead, Belmar, Blawenburg, Bound Brook, Bradley Beach, Bridgewater, Brielle, Carteret, Colonia, East Brunswick, Edison, Fair Haven, Monroe Township, Mount Laurel, Neptune, New Brunswick, Hazlet, Hillsborough Township, Howell, Imlaystown, Iselin, Manasquan, Marlton, Matawan, Middletown, Millstone, Millstone Township, Monmouth Beach and surrounding areas.