Mold Removal in Central New Jersey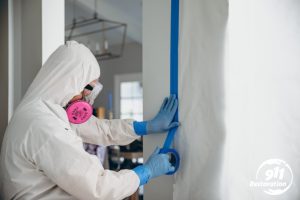 Our team has been providing mold decontamination in Trenton, Princeton, and the surrounding area for quite a while. We've seen it all, and we know what it takes to rescue your property from mold and protect you for the future. Our IICRC certified mold remediation technicians go above and beyond basic mold cleanup. They guard your property against future infestations and repair all damages caused by fungus. In short, they give you and your property a Fresh Start.
Mold contamination is a complicated topic for many business owners. While there are plenty of articles insisting that mold can kill you, other advice claims fungus is no emergency. At 911 Restoration, we're happy to answer all your questions honestly. The most important thing to know is that fungus can be dangerous if you put off mold remediation. But if you call a certified mold cleanup company like 911 Restoration, you can get past it quickly and at limited cost.
If you need mold remediation in Trenton, Middlesex, or anywhere throughout Central New Jersey, don't delay. Call 911 Restoration for honest, expertise restoration nj service. Call us at 201-241-3113 and see how we can help.
Expert Basement Mold Cleanup in Trenton Area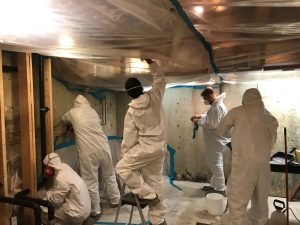 Basement flooding is the most common form of water damage restoration New Jersey. So it's no surprise that many of our mold removal customers reach out regarding mold in their basement. Those concrete floors can absorb and store a lot of water. Sooner or later, the moisture rises to the surface. That damp surface—combined with the dark atmosphere of the basement—creates the perfect breeding ground for mold.
The tricky thing about mold is that it thrives in hidden places. This is why you should always reach out to a certified professional for a mold inspection, even if you already see the growth. Mold reproduces through airborne spores that reach all areas of your property. Mold on your basement walls could spawn a new colony inside your bathroom ceiling.
Our mold inspection crew knows all the signs of a hidden infestation. They examine every inch of your property for contamination, ensuring that their mold removal efforts cover all colonies. They communicate with you about every growth discovered. You always understand what type of infestation you have and what mold cleanup strategy your technicians will use.
To ensure their mold decontamination methods are effective in the long term, our team dehumidifies the site of the infestation. This means they dry out the structure to its core, preventing stored moisture from rising to the surface. Then, the mold remediation experts test the structure for damage. If anything is weak, crumbling, or permanently stained, our experts take care of repairs themselves. 
At 911 Restoration of Central New Jersey, we emphasize comprehensive mold decontamination. Mold is a relentless organism, and without a well-rounded approach, it's bound to grow again. Call us today for a mold inspection in Trenton or neighboring communities. We give you the peace of mind only full-service mold removal can provide. Call us at 201-241-3113.
Is Living with Mold Dangerous?
Many home and business owners are vaguely aware that living with mold is not healthy. But there's a lot of confusion surrounding the potential dangers of a mold infestation. 
The truth is that mold is dangerous, though the extent of the danger depends on the type of infestation you have. Black mold, for example, is toxigenic. This means it releases mycotoxins that enter your body through respiration and can cause health issues as serious as heart problems. If you suspect you have black mold on your property, do not waste any time; order a mold inspection now. Keep a safe distance from the growth and wait for the mold decontamination experts to arrive.
Other varieties of mold are allergenic or pathogenic. This means they're not quite as hazardous as black mold, but they are still likely to damage your health over time. These types of mold can cause allergies, asthma, and illness. 
The dangers associated with mold explain why it's so important to contact a professional mold remover. Not only are the experts bound to remove mold more effectively than your household cleaners, but scrubbing at a growth places you in direct contact with the fungus. As you disrupt the mold, the colony releases dangerous particles into the air you breathe.
If you think you have a mold problem, call 911 Restoration right away. Our mold decontamination experts remove the issue promptly, safely, and completely so you can breathe easy. Call 911 Restoration at 201-241-3113 and see how we can help.
Serving the communities of Flagtown, Freehold, Gladstone, Millstone Township, New Brunswick, Oceanport, Port Reading and surrounding areas.