Water Damage and Mold Removal Gladstone
If you have recently experienced water damage in your household you need the mold removal Gladstone experts at 911 Restoration of of Central New Jersey come to your home a check for fungus growth.
Once you contact our office, our water damage Gladstone professionals will schedule an appointment to get workers to your property as soon as possible to begin comprehensive services, such as:
Water damage restoration

Moisture extraction

Thorough drying techniques

Sanitization

Spore removal

Drywall replacement

Vapor Barriers

Air filters and purifiers

Mold testing

Cleanup services

Vacuuming
Where there is water, there is most likely going to also be mold, especially if that moisture has had time to sit for 24 hours or more, which is why our mold removal Gladstone team are guaranteed to arrive within 45 minutes.
That is all the time it takes for mold spores to develop into an infestation, which makes it all the more crucial for water damage Gladstone staff to get to your home quickly. Our mold removal Gladstone technicians are available 24/7/365 to make it easy for you to call us the moment you notice any signs of mold growth in the home.
When our water damage Gladstone crew arrive on the scene, we will immediately conduct a free visual mold inspection. This helps both the homeowner and the repair workers to understand the extent of the damage. 
Call our IICRC certified mold removal Gladstone agents if you notice any signs of fungus growing in your living space and we will promptly eradicate the substance from your property.
With Us On The Job, Mold And Fungus Will Be An Issue Of The Past
Mold is a living organism that infests wherever moisture present, even if that water is inside your home. It has the ability to live on any organic material, just as long as it is damp.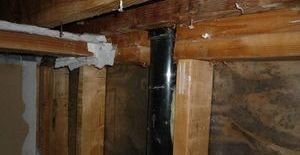 If you have a leak or your home has become flooded, then suddenly your living space has become the optimal environment for fungus to also set up camp.
When our mold removal Gladstone specialists are called to a job, we will check in places of the home that are prone to water, such as basements, attics, bathrooms, under sinks and on roofs.
On top of looking unpleasant, mold can actually cause those living with it to experience health issues. When you inhale the particles for an significant amount of time you can begin to feel allergy-like symptoms and respiratory issues.
Call our water damage Gladstone pros as soon as you notice any sign of mold growth on your property, and we will immediately clean up the fungus and prevent it from spreading.
Are Fungal Pros Are Qualified To Handle All Aspects Of Water Damage
When you are hiring a professional to conduct a mold cleanup job, you need to make certain that you are dealing with a company who is trained in all areas of mitigation, and our mold removal Gladstone unit meet that requirement.

In order to make you confident in our services, our entire operation is licensed, bonded and insured, for your protection.
Our water damage Gladstone operation wants to make you feel as comfortable with us as possible, which is why on top of being exceptionally qualified, we also place an emphasis on customer service. 
Along with receiving around the clock care from our dedicated staff, you can also rely on us for affordable prices.
Our mold removal Gladstone techs understand that most standard homeowner's insurance policies do not cover mold, so we will do whatever we can to accommodate you.
Call our water damage Gladstone experts at 911 Restoration of of Central New Jersey and we will get you on the path to a fresh start today!