Water Damage Middletown
911 Restoration of Central New Jersey wants to make sure that your home in Middletown is safe from the dangers that water damage can pose. Bad weather and plumbing problems can come quickly and unexpectedly.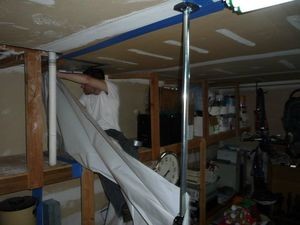 Fortunately, our water damage Middletown specialists are fully capable of providing quality repair and restoration work on the same day you call us.
Among the water-related problems that we can handle include:
Pipe bursts and pipe leaks
Washer bursts
Ruptured hoses
Roof Leaks and ceiling leaks
Mold growth
Toilet overflows
Storm damage
The moment that you detect any of those issues affecting your home, you can rest assured that 911 Restoration of Central New Jersey's professionals are available 24/7/365 and can respond within 45 minutes of your call. With our timely response to your water-related issues, we can help get your home back into shape before any major structural problems can arise.
The Best Solution To Sewage Water Backups
Sewage backup is a serious problem that needs to be dealt with as soon as possible to prevent major damage to your home and can pose a serious hazard to your health.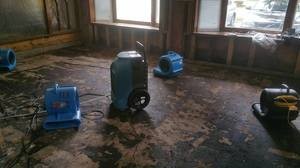 Using protective hazmat gear to do it safely, we will be cleaning sewage water. This is what our team can provide during these kinds of jobs:
Industrial strength sewage cleaning products to kill bacteria and protect your hardwood from damage
We have licensed black water specialists who will make the necessary plumbing repairs.
The latest drying technology will be used to remove water and moisture.
Our sewage water restoration professionals will be ready to restore the home per your request.
Fortunately, this is a problem that 911 Restoration of Central New Jersey can handle. Our team has nearly four decades worth of experience in dealing with these kinds of problems.
A sewage backup can happen when a rainstorm floods the sewer system. This causes pressure to rise and shoot sewage water like a geyser into your home through a toilet. When this kind of problem happens, water needs to drawn out of your home immediately.
The Company That Will Take Care of Water Damage in Middletown
With the quality of services that 911 Restoration of Central New Jersey can provide, your home will be in good hands when you call us to repair or restore water damaged sections.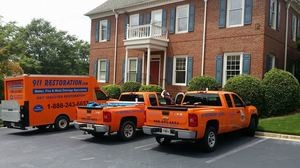 Issues like plumbing leaks, rain damage, or sewage spills will be dealt with in a timely and professional manner. Here's some of the other benefits you can expect from us:
Uniformed professionals will come to your home in company marked trucks.
We will be working with your insurance company to provide you with the most affordable price.
You can expect that our American-based call centers will answer your call immediately.
IICRC certified technicians who are licensed, insured, and bonded will be working on the issue.
With those benefits, 911 Restoration of Central New Jersey is the clear choice for any water restoration services that you may need. The moment you notice a leak, call our water damage Middletown team with 911 Restoration of Central New Jersey and get a free thorough inspection and estimate today!