Understanding the New Jersey Disaster Mitigation Plan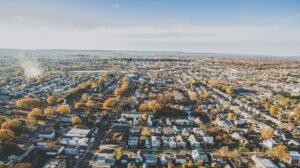 Climate change is affecting the state of New Jersey as much as other states throughout the nation. While you may adopt an eco-friendly lifestyle to contribute toward the cause of saving the planet, the key to survival is to adapt to the changes. One of the crucial aspects of preparing for the worst is to prepare a shelter in case of natural disasters. But what can be a better shelter than your home?
If you own property in New Jersey, you need to start preparing it for possible natural disasters to ensure safety for yourself and your family. According to States at Risk, the state of New Jersey has a high chance of experiencing flooding, storms, and extreme heat. While it does sound scary, you can ensure your family's safety by preparing your home to withstand these climate change effects.
Here's how you can do it:
Hazard Mapping
Hazard mapping highlights areas of a region that are most likely to suffer from certain natural disasters. Since New Jersey can see a variety of natural disasters in the form of flooding, heat waves, and storms, hazard mapping will allow you to understand what measures you need to take. It will equip you with the preparatory steps that will minimize the risk of property damage.
Preparing Property
Once you know the steps you need to take to insure your home's safety according to the natural disasters that might affect it the most, you can begin installing them in your home. Here are some safety measures for the three most likely effects of climate change in New Jersey:
Preparing Home for Flood
To reduce and control possible flood damage, you need to ensure the following measures:
Raise your home's foundation
Install foundation vents if possible
Coat the exterior walls with sealants and water-resistant paints
Remove electric sockets from near the ground level and install them halfway on the wall
Remove the artificial grass and strengthen the ground by planting trees and bushes
Keep sewage lines blockage-free and maintained
Install valves on pipes to be able to close them during floods
Ensure there are no exposed power lines outside the home or in neighborhood
Ensure easy access to power lines inside the home
Keep electronics on a raised level inside the home
Keep sandbags handy
Keep survival kits ready
Preparing Home for Storms
Here are the steps you need to take to ensure minimal property damage during storms:
Keep trees in the backyard and front yard trimmed
Seal cracks and gaps in walls and roof with cement
Maintain the roof by replacing missing and broken shingles
Install a second layer of protection under the roof
Install insulation in walls to strengthen them
Ensure sealed window and door frames
Install hurricane shutters on windows if possible
Replace or repair loose fence or siding
Stay stocked up on dry foods and clean water in case of emergency
Preparing Home for Heatwave
If precautions are not taken, a heatwave can prove to be very dangerous and even lethal. Here's how you can ensure your and your family's safety against this deadly effect of climate change:
Install insulation in roof and walls
Ensure all rooms have means of insulation
Place nets on windows and doors to keep away the bugs and insects that come with heat
Ensure proper functioning of electric supplies at home
Have a backup power generator
Install solar panels if possible
Install a roof garden to reduce the amount of heat coming into the home
Stock up on medications
Install thick blinds and curtains on the windows
Ensure easy access to a fire extinguisher in case a fire breaks out
Stock up on cool packs and ice cubes
Install ceiling or wall fans for air circulation
Stock up on food that can be consumed without using a heat source
Increasing Awareness
During or after preparing your home for the disaster, you can begin spreading awareness about mitigation plans among your neighbors. Your home's safety will greatly improve, and the risk of experiencing property damage will also decrease when the neighborhood is prepared to face natural disasters.
Insuring Property
Insuring your property is an extra measure that will ensure your property's safety. If your property is already ensured, don't forget to update the plan after installing all the safety measures. You want to get all of your money's worth, and updating the insurance will ensure that you will if you end up facing unfortunate circumstances of property damage.
You can check out the official site of the state of New Jersey to contact the authorities if you need their assistance on any step or if you need to see what measures the government is taking against possible natural disasters. You can also contact a professional restoration service for regular maintenance of your property or installing advanced safety features. There are many restoration services in New Jersey, such as the 911 Restoration of Central New Jersey, that can assist you in preparing your home for all kinds of natural disasters.