Avoiding Coffee Machine Disasters in The Office: 5 Tips to Ensure Employee Safety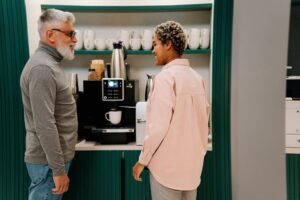 You must know that a coffee machine at work helps boost employee morale and productivity, uplifts their mood, and promotes social interaction. But did you know it could kill people? Yes, explosions with coffee machines are also possible.
Avoiding coffee machine disasters in the office should be a priority if you care about your workforce's health and safety. They're often caused by accidents that could be prevented, so you must pay extra attention and take effective precautionary measures. Proper maintenance of the machine is crucial to ensure it keeps working smoothly.
In this post, we'll highlight some safety tips to help you avoid coffee machine disasters at work. 
5 Tips for Avoiding Coffee Machine Disasters in the Office
The following tips will not only help ensure your employees' safety at work but also provide them with a quality drink every day and help you save money in the long run by preventing repairs and replacements.
1.    Clean the Machine Regularly
This is a simple yet one of the most overlooked tips for avoiding coffee machine disasters in the office. Proper maintenance of the machine starts with regular cleaning. This involves removing various parts of the machine (such as the drip tray, grounds bin, and milk foamer) and washing them with warm, soapy water to get rid of grime and bacteria.
In addition to ensuring the coffee machine works efficiently, this simple step takes hygiene to the next level.
2.    Turn Off the Machine When Not in Use
Some coffee machines automatically turn off when not in use. If yours doesn't, tell your office staff to adhere to this rule to avoid coffee machine disasters.
Moreover, you can assign a person to turn it off before leaving the office every day to save electricity and increase the machine's longevity.
3.    Look Out for Common Signs of Damage
Even if you invest time and effort into cleaning and maintaining a coffee machine, it may sometimes get damaged – it's an electric appliance, after all.
You must look out for any sign of damage or wear and ask your employees to do the same. Since the office coffee machine is used for long hours every day, you must schedule regular inspections to prevent accidents.
Essentially, you should look out for cracks and electrical wiring placements that can be dangerous. If you notice water leaks or machine discolorations, you must send the machine for repair as soon as possible.
Avoiding coffee machine disasters in the office becomes easy when you can spot danger and take the necessary measures to resolve the issue before it's too late.
4.    Use it with Care
Needless to say, you must take good care of an appliance if you want it to last long – and an office coffee machine is no exception.
Coffee machines release sudden bursts of steam and burning hot liquid, so ask everyone in the office to be careful around it. Spills and dropping cups can also be avoided if everyone uses the machine patiently.
Furthermore, make sure the coffee levels are always the right amount because if they're too low, there's a good chance that your machine will get damaged sooner or later. The same goes for water. Low water levels cause the water pump to start drawing air into the system.
The easiest way to go about this is by asking your employees to keep an eye out for the water and coffee levels whenever they come for a drink.
5.    Tidy Up Spills Immediately
One of the most common causes of workplace accidents is slips and falls. You can prevent these accidents by keeping the coffee counter clean and tidy.
Small coffee spills can cause big accidents if they aren't cleaned up in time. Ask your employees to have someone tidy up the spills immediately if the coffee splashes on the floor. Otherwise, a teammate wearing regular footwear with little to no grip against slippery floor surfaces may slip and get injured.
How great is it that you can show your appreciation for your employees and all that they do for the company through something as simple as a coffee machine?
Coffee makers can make the workplace feel complete and make mornings extra refreshing for the team. To ensure your employees enjoy great-tasting coffee every day, you must take proper care of the machine and stay on top of its maintenance.
However, in some cases, avoiding coffee machine disasters in the office is impossible. You must know who to call for help if the machine explodes or causes any other damage at work.
Expert Restoration Services for Commercial Disasters – 911 Restoration of Central New Jersey
911 Restoration of Central New Jersey can take care of your restoration needs for commercial disasters. Our experts are equipped with best-in-class knowledge, tools, and resources to return your office to its former glory, no matter how big or small the accident is.
Feel free to call us for more information regarding our restoration services for commercial disasters.