Fire Damage Restoration – How the Experts Do It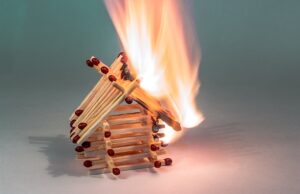 Fire damage is devastating! Fires usually spread quickly, and the high temperature destroys most things to a point where not even their structure is retainable. This loss is depressing because you lose several memorable keepsakes to the fire damage.
Generally, you have a better chance of getting some of your items and getting a fully restored house if you hire professional restoration businesses to do it for you. 911 Restoration teams have been providing home restoration for various types of damages and have successfully helped clients reunite with their belongings that survived the fire and reclaim the undamaged sections of their homes.
How Experts Approach Fire Damage Restoration
There are several reasons home restoration experts are better at fire damage restorations than untrained people. However, their methodology is what distinguishes them the most prominently. Using their knowledge and experience, professionals develop SOPs to optimize home restoration after a fire.
1.    Site Screening for Unharmed Items
The first difference in methodology begins with how people approach the site. 911 Restoration technicians screen the site for any unharmed items they can find. They miraculously survived the fire but will not hold their own against the damage restoration process.
Hence, it is better to remove them to protect them. This step is important because of how often it gets missed out. Even with the correct guidance, maneuvering through a burnt house is challenging since you don't know which part of the ceiling will collapse.
2.    Assessment of the Fire Damage
Once all the items are out of the way, the technicians explore the relevant portions of the house. This exploration allows them to assess the fire damage, helps them look at the extent of damage, and determine if the house needs restoration, repair, or reconstruction.
3.    Solution Proposal and Approximate Costing
Once they have a concrete idea and discussed the finding among themselves to conclude, they will give you a rough proposal of all the work that needs to be done and provide an approximate cost.
Their proposal is subject to feedback; however, 911 Restoration does not promise to remove an important procedure since not doing it can put the resident in danger. In general, fire damage restoration is not the time for you to choose being cost-effective. Spend what you need to make the house safe.
4.    Sodablasting
Sodablasting is the process of using sprays to spread sodium bicarbonate on the objects in the room to prevent minor sparks from catching on fire and resulting in further problems.
Sodablasting is environmentally friendly, so they are not harming the environment. It is a less abrasive technique and is a powerful cleaning agent against rust, spray paints, and fire-damaged soot.
However, only experts should ideally perform soda blasting. It has a 7+ pH, giving it alkaline properties, and will react with acidic products and materials.
5.    Sealing and Odor Trapping
Although soda blasting effectively removes soot, smoke, and ash, it can't remove the burning smell from the house. Particles from the burned objects can nestle into the surfaces of items nearby that may have become damaged in the fire.
911 technicians use several odor removal techniques and choose the one that best matches the case at hand. These techniques seal away the particles and their respective odors.
6.    Restoration, Repair, Reconstruction
After finishing off the initial steps of the process, the crew starts working on providing home restoration services, repair, or reconstruction, whichever case applies. There will be times when requirements differ from room to room.
Professionals can gauge the differences and make the correct arrangements for each of them.
7.    Water Damage Restoration
The problem with fire damage is the scale of its destruction. Aside from the burning and soot, you may find yourself standing in the middle of a body of water while the faucet continues dripping.
Restoration experts know the high temperatures can make pipes burst, leading to a flooded basement or molding.
8.    Mold Remediation
Lastly, although the house is recognizable again, the team looks for any mold formed where water seeped into your home. Mold infestations spread quickly and are dangerous for your health. The last thing you want is to land in the hospital because the mold infected you as well.
Why Professional Restoration is Different
You must have already noticed how structured and systematic the professional approach is for rife damage restoration. Following are the key reasons driving these differences:
1.    Knowledge and Practice
Firstly, restoration experts, like those at 911 Restoration, are trained in the field, have adequate theoretical knowledge, and have the right experience handling fire damage cases.
They pay attention to details and develop the ability to find creative and safe solutions for restoration.
2.    Awareness of Safety Needs and Precautions
All technicians go through health and safety training and assessments to ensure they follow safety needs. This training reduces their risk when they move through the burnt house for assessments.
A non-professional can miss details and trigger a weakened part of the structure, making the area unsafe for themselves.
Wrapping Up
To sum up, professional fire damage restoration is thorough, less risky, and far more detail-oriented. Home restoration experts also know what materials to use for the renovations, further helping you get a sturdier place to live.
If you are looking for fire damage restoration services in New Jersey, please call our helpline at 201-241-3113 or contact us using this link. We are available 24/7 and will answer all your queries.