Water Damage Woodbridge
When challenges such as pipe bursts, water heater failures and local area flooding occur, those in the know contact Adi Schwartz and Michael Oren, and the water damage Woodbridge team with 911 Restoration of Central New Jersey to take care of them and their property. Call us at 201-241-3113 and allow us to offer you a free visual inspection.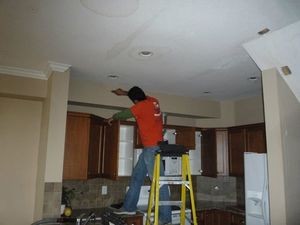 This is because Adi and Michael are tried and true professionals in this industry and they make sure to always put the needs of the customer first as priority number one on each and every job they do.
"We aren't just experts at water removal," Adi says, "We're experts at stress removal from these situations too."
This expertise comes from both their dedication to the trade craft as well as the field experience that they have put in over the years solving water damage challenges of all kinds, shapes, and sizes.
"Our teams can be at the site of a water damage Woodbridge situations within 45 minutes to give the home or business the best chance of a quick recovery by providing quick service to help," Michael explains.
In addition to their capacity for arriving fast, Adi, Michael and the water damage Woodbridge crew are also available 24/7/365 to tackle any kind of water related concern that homeowners might have.
So, if your home is being adversely affected by anything from a fire sprinkler malfunction to a ceiling leak, don't wait another second to contact the water damage Woodbridge team with 911 Restoration of Central New Jersey today at 201-241-3113!
Tips for Avoiding and Preventing Damage from Water Sources
When it comes to the world of water damage restoration, there are few who know as much, and have solved as many problems as Adi and Michael with 911 Restoration of Central New Jersey.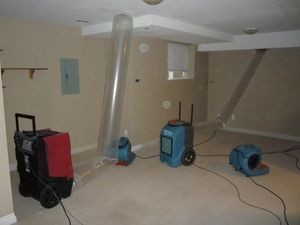 Having been in the field for their entire careers, they know that while they have all the tools and advanced drying technology to solve a situation after it has occurred, they also have the knowledge needed to provide people with the methods for avoiding these times all together.
"We try and help people to prevent these situations from taking place through education of simple maintenance tasks that many forget need to be done," Adi says. "Here are some of the most common ways to easily protect your home or business."
Never let the temperature of the air in your home drop below the freezing point. This will solidify and expand any lingering water in your freezing pipes and that can create a burst.
Always make sure to clean out your gutters every year to avoid overflows and ice dams which can inundate your roof and create ceiling leaks.
Make sure to thoroughly clean out downspouts and direct the discharge from them away from the home by at least five feet to avoid flooding the foundation.
Have a professional inspect your plumbing system at least once every three to six years to make sure that there aren't any tiny issues that may grow or develop over time.
"These are some of the easiest and most regularly forgotten maintenance tasks, but it's definitely not all of them," Michael says. "So if anyone has any questions about these or other techniques, they should feel free to give us a call and find out more." Call us at 201-241-3113 and see how we can help.
Buckling Floors Indicate Upstairs Leak
When Adi and Michael go to work doing water extractions on homes and businesses in the area, they bring the full weight of their experience to bear on every challenge they are presented with.
This helps immensely when they encounter projects that others have passed on for lack of experience and understanding.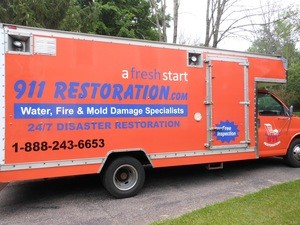 "We took on one job just the other day where the homeowner had tried a plumber who told them the project was too big for him," Michael says.
"We showed up, and found out why. There was a huge water damage problem spanning two floors of the home, and the leak was just the beginning of the challenge."

Adi and Michael got called to the home because the homeowner noticed that the wood laminate was buckling on the first floor and they didn't know why.
When the water damage Woodbridge crew got to work, they found the category two water leak in the upstairs and stopped it cold. That leak was dripping constantly into the wall which was then traveling downstairs where it pooled underneath the wood flooring which warped and ruined it completely.
"We took care of the leak. We took care of the buckling and then we took care of making the house look and feel like new again," Adi says. "When it was all said and done, the homeowner got new floors, and the house looked like new again."
Adi and Michael always go the distance on every project that they take on, and this house was a perfect example of how they take care of the people at each location too.
If your home is experiencing wood flooring buckle from an unknown leak, the contact Adi, Michael and the water damage Woodbridge experts with 911 Restoration of Central New Jersey today for help! Call us at 201-241-3113.