Water Damage South River
When you hire the water damage South River experts at 911 Restoration of Central New Jersey homeowners can rest assured that the most capable hands are on the job.
Our water damage South River professionals are licensed, bonded and insured to provide you with exceptional flood and leak damage remediation services that deal with issue such as:
Pipe burst

Washer leaks

Water heater explosions

Fire sprinkler malfunctions

Water line leaks

Ruptured hoses

Toilet overflow

Mold removal

Black water sanitization

Home floods
We keep our office available 24/7/365, because we want to make it easy for you to schedule an appointment with us.
If you need immediate assistance you can stay calm knowing that we guarantee a response time of within 45 minutes, no matter what time you call.
It is important for us to be able to provide you with same day services when it come to water emergencies, because through our experience we know that getting moisture off your property quickly will prevent permanent damage.
Call our water damage South River team the moment you find invading waters on your property and we will do whatever it takes to get your household up and running again.
We Can Help You With Understanding Your Water Damage Insurance
One of the most pressing concerns that homeowners have once they realize that they have water damage in their home has to do with money.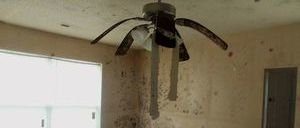 Most people associate hefty leak or flood damage with a costly invoice from their remediation company, but our water damage South River agents want you to know that it does not have to be that way.
On top of offering affordable prices on all of our mitigation services, we also work with all insurance companies.
Our water damage South River specialists will help you go over your insurance policy, even filing your claim for you if you want us to.
We have many years of experience working with insurance providers, so you can count on us to get the job done right.
Call our water damage South River professionals with 911 Restoration of Central New Jersey and we will help you get the financial aid you need for all of your structural concerns today!

We Want To Be Your Go To Water Damage Remediation Team
If you call our company then you must be dealing with situation that you feel requires professional help, which means that you must be feeling quite overwhelmed.

We understand the fragility of the circumstances, so when our water damage South River staff arrive on your property we take special care to tend to your emotional needs.
By providing you with excellent customer service we hope to maintain your wellbeing throughout the entire renovations process. We want to be there for you to lean on during this whole ordeal, and we take that responsibility very seriously.
We aim to prove to homeowners just how dedicated they are to the job by staying accessible to you night and day. You can call us whenever a question or concern pops into your head, and we will do our best to put your mind at ease.
Call our water damage South River technicians at 911 Restoration of Central New Jersey as soon as you need IICRC certified professionals at your home and we will give you the utmost attention you deserve so you and your family can have a fresh start.