Water Damage Short Hills
Water damage is a devastating disaster that can ruin houses with the threat of mold spores, wall rot, and other secondary destruction, so call our water damage Central New Jersey company when you need the aid of our water damage Short Hills professionals and we will use over 35 years of experience to return your property to its proper state. We are licensed, insured, and bonded with the using the latest drying technology to perform the best and fastest water removal. 911 Restoration in Central New Jersey is available 24/7 to provide you with professional water extractions at a moment's notice. We are IICRC certified to handle all your water disaster restoration services, so call our water damage Short Hills team today!

It is important that you choose 911 Restoration in Central New Jersey because we always put the customer first with our same day service water extractions that show case the highest caliber of professionalism. Whether black water floods your carpets or rain leaks spread mold through your attic, our water damage Short Hills experts can salvage your property using water damage restoration services, mold removal, and sanitation, so call today!
Who do I Call for Water Damage Restoration in Short Hills?
Call our water damage restoration Short Hills professionals when you need water damage restoration after storms, plumbing leaks, or appliance failure because we have the knowledge, equipment, and techniques to make your building whole again after any water based emergency. It is vital you act fast and make sure water damage Short Hills technicians deal with the water mitigation so that we make sure there are no further issues. If water is allowed to linger or not remedied properly, it is possible to degrade into a worse form of water damage and spread mold. Even clean water from an overflowing sink can become stagnant category 3 water if it sits long enough. Mold spores blossom when excess moisture is allowed to penetrate and area, so rely on 911 Restoration Short Hills to make sure your home is safe and healthy.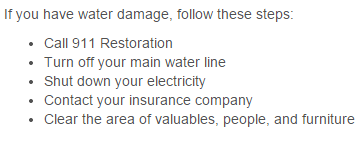 Call our water damage Short Hills as soon as you notice water line issues in your home and we will walk you through how to mitigate the damage to your home. By turning off the water line, activating sump pumps, and shutting down your other utilities you reduce the amount of flooding and chances of short circuits. Our water damage Short Hills operatives arrive within the hour to start pumping water out and provide a free inspection to look for mold. When you are worried about floods, call our 911 Restoration Short Hills and we will help you with an affordable price by making sure your homeowner's insurance covers water damage.
Does Homeowner's Insurance Cover Water Damage?
Homeowner's insurance will cover water damage Short Hills services on properties that are well maintained. By repairing plumbing leaks as soon as they are found, cleaning rain gutters of leaves and debris, and insulating your water line, you will prove that you are a responsible homeowner deserving of full coverage. Without the preventative measures in place, the insurance company may refuse the claim based on negligence. According to the Insurance Information Institute, water damage is one of the most common reasons for insurance loss, so it is vital you stay up to date on protecting your home and finances from such a disaster. Our water damage Short Hills staff will file your claim for you because we value professionalism and always put the customer first. When you are looking for the best water damage restoration company, call 911 Restoration.
What is Best Water Damage Restoration Company in Short Hills?
The best water damage restoration company is 911 Restoration because our water damage Short Hills technicians understand the trauma associated with water disasters, so we strive to keep the emotional stress minimal. We take care of all aspects of the process, from working with all insurance companies to ensuring all excess moisture has been expelled. We cherish the community of Short Hills, and are proud to be the calm after the storm when events like the tornado of 2009 caused $1million in damages. 911 Restoration will help you recover from such an event and make your home better than ever. When storms, plumbing, or appliances flood your home, call our water damage Short Hills personnel for a fresh start.