Water Damage Red Bank
When water seeps into your home, you can call the water damage Red Bank crew at 911 Restoration of Central New Jersey and help will be at your property within 45 minutes or less, fully prepared to get to work.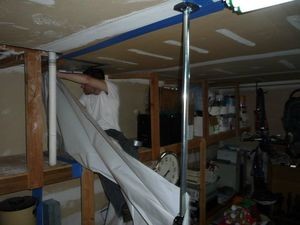 Homeowners can count on us to mitigate any cause of water damage, because we are licensed, bonded and insured for your protection. When you hire us you will receive same day services, such as:
Toilet overflow sanitization

Pipe bursts remediation

Washer hose bursts correction

Mold infestation clean up

Water heater leak repair

Fire sprinkler malfunction restoration

Flooded basement water removal
We know how important it is to get your household up and running again, so our phone lines are available 24/7/365, making it possible for you to call us any time.
Call our Red Bank floodwater removal team and we will give you a free home inspection at no risk to you today!
Check Out Skylights And Inspect Doors for Leaks
Our Red Bank plumbing operation wants homeowners to be aware of the ways water can leak into their home via their skylights and doorways, even if both are shut. Below are something you should look for when checking your property.
Check doors for cracks that may weaken its ability to stop air leaks and water from seeping inside.

Inspect weather stripping for peeling and gaps.

Make sure the door hinges are tight and that the doors fit securely in their place.

Brown stains on walls under skylights are signs that water is invading and air is escaping. If you can cut a small hole in the stained drywall and it is wet, then that indicates rot and possibly mold.

Look for open seams between flashing or shingles.

Check shingles for debris that allows water to collect on roofs.

If water is damaged the area, there will be cracked patches of cement on the roof from the last time the skylight leaked.
Call our Red Bank water removal experts with 911 Restoration of Central New Jersey and we will make sure your home stays dry and moisture-free today!

We Will Make Sure Your Home Survives Any Water Disaster
After you find that your basement has been completely flooded, it may seem impossible to imagine it going back to a dry, clean state, but our Red Bank water extraction staff is here to show you that it is possible.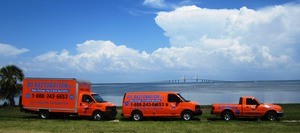 Our Red Bank water cleanup professionals use comprehensive techniques and equipment to extract water, dry the premises and repair the damage.
We use high-powered sump pumps, wet vacuums, air movers and dehumidifiers, to name a few, in order to get your home back to its original condition.b
We know how important it is to get your home feeling like its old self again, and we will do that, along with also making it better than ever.
Our water damage Red Bank technicians will always get the job done correctly the first time around, so call us today and let us get you on the path to a fresh start today!