Water Damage Plainsboro
The rainy season brings with it many opportunities to expose any weaknesses in your home's structure, which is why the water damage Plainsboro experts at 911 Restoration of Central New Jersey are so well equipped to remediate all causes of floods and leaks.
Not only are we licensed, bonded and insured to renovate your home after it has been damaged, we are trained to repair the cause of the problem right at the source.
Our Plainsboro water extraction technicians always respond to any water-related job within 45 minutes or less, not matter what time you call, because our office is available 24/7/365.
We have the resources to mitigate all causes of water damage, including:
Ice machine Malfunction

Burst Pipes

Roof leaks

Sewage backups

Appliance malfunction

Water heater explosions

Washing machine overflow

Ruptured hoses

Flooding

Leaky shower pans
When it comes to water-related disasters, our Plainsboro flood damage eradication unit always implements same day services so you never have to wait long for help.
Checking The Structural Components Of Your Home To Prevent Water Damage
Home foundation systems have other parts besides the perimeter foundation wall that contribute to its sturdiness. In your basement or crawl space, you can look for posts and concrete supports, or piers.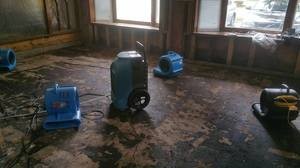 These posts should stand straight and be firmly planted underneath the beams they support. The bottoms of the posts should rest firmly on concrete piers.
You shouldn't find any puddles or see structural framing that is wet. However, if you do see this, check for rot by probing the wood posts with a screwdriver.
Puddles and other signs of moisture in a crawl space may indicate that the area has poor drainage around the perimeter foundation. Make sure that gutters aren't clogged, and that soil slopes away from the foundation.
A bulge or curve in either a block foundation or a poured concrete wall could signal that the foundation has shifted, or that the soil may be expanding and contracting, putting pressure on walls. Call our Plainsboro flood cleanup agents today and we will get you a free home inspection today!
Customer Service Is

 

A Major Part Of Water Damage Restoration
Keeping your feeling calm throughout the entire restoration process is something we strive to achieve with every job we are called on.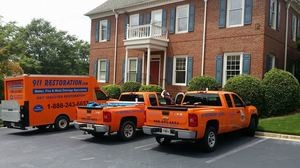 We understand how overwhelming it can be to discover a flood in your living space, and our Plainsboro plumbing workers will do everything they can to comfort you during your time of need.
When you look at your home from the outside, check to see if your foundation is straight by looking down the length of your foundation wall from each corner. The walls should be basically straight and not leaning. 
By providing you with the highest degree of customer service, we hope to make the situation go as smooth as possible, along with keeping your spirits up the whole way through.
Call our IICRC certified water damage Plainsboro team with 911 Restoration of Central New Jersey and we will make sure you get on the path to a fresh start in no time today!