Water Damage Parlin
After excessive rain storms cause water to invade your property, homeowners can call the water damage Parlin team with 911 Restoration of Central New Jersey and they will have help at their door within 45 minutes or less.
Our Parlin flood mitigation staff is IICRC certified to implement same day services for all causes of water damage, including:
Roof and ceiling leaks

Storm and other water-based disaster damage

Sewage backups

Fire sprinkler malfunction

Washing machine leaks

Ruptured hoses

Leaking ice machines and other refrigerator issues

Pipe bursts and other plumbing issues

Flooded basements

Crawlspace condensation

Sink, toilet and bathtub overflows

Clogged gutters and downspouts
We want to be able to help you get out of any water disaster as soon as possible, so call us today and we will get the process started by giving you a free home inspection.
Check The Slope Of Your Foundation To Prevent Leakage
If your home is not properly sloped, then it makes it easy for water to seep into its exterior, which can cause a significant amount of water damage.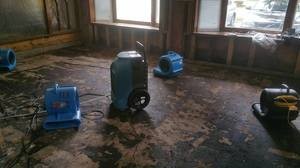 The ground around your foundation should slope away from your house at least 6 inches over 10 feet. Also, make sure downspouts extend at least 5 feet away from your house.
This is to make sure that water from rain and melting snow doesn't soak the soil around your foundation walls, building up pressure that can cause leaks and crack in your foundation.
This kind of water damage doesn't happen overnight, it's accumulative, so the sooner you get after it, the better off you will be.
Call our Parlin flood damage restoration experts today and we will help you figure out if you have any foundation issues, as well as promptly fix any problems you may be having with water leakage.
Getting Your Home Moisture Free Is Our Duty
With so many years of experience in the home restoration field, our Parlin leak repair techs understand just how important it is to get the water out of your home and off your possessions quickly.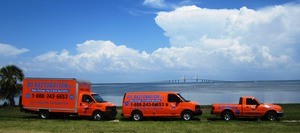 Our Parlin water emergency operation knows how overwhelming a home flood can be, and we just want to make this process as easy as possible, so we always make an effort to provide you with ideal customer service.
It doesn't matter what time you need assistance, we will always stick to our guaranteed time frame, because our office is available 24/7/365 in order to be at your beck and call.
By making ourselves so available to our customers, we hope to make you feel safe and secure.
Homeowners can contact us literally any time to ask any questions about a current home restoration job or to schedule a future appointment, so call our water damage Parlin team with 911 Restoration of Central New Jersey today!