Water Damage Old Bridge
The water damage Old Bridge team at 911 Restoration of Central New Jersey is here to let you know that if you are experiencing wet, damp, or swamping conditions that we will pull you through it.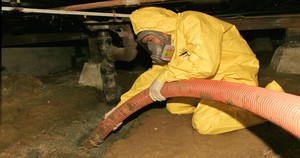 For all our customers, you will experience a premium experience outlined by:
A restoration team that is available 24/7/365.
Fast response within 45-minutes.
Same-day service when you need it.
Latest drying technology.
Totally professional demeanor.
All our technicians take the classes offered by the Institute of Inspection Cleaning and Restoration Certification. This makes us a certified group of professionals that you know are capable of restoring your home and your mind.
You deserve a company that will promptly answer your call, and then be there for you within minutes with a Fresh Start Attitude. It is the mindset that we bring to every restoration. Call us at 201-241-3113 and allow us to offer you a free visual inspection.
You Too Can Prevent Water Damage

At 911 Restoration of Central New Jersey, we want to keep our customers dry at all times, so we wanted pass along some words of wisdom from owner and operator Adi.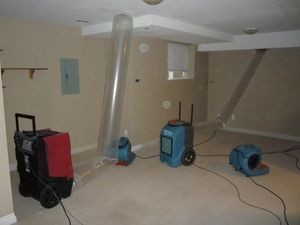 He says, "preventing water damage is easy if homeowners know when they are most at risk for it. Once they know what signs to look out for, then they can implement an appropriate reaction that they know will save them."
For example, in the winter, when the weather is below freezing, your pipes are most likely to burst. Now, the reason is not due to blockage.
Instead, what causes it is that water is less dense when it freezes because it expands. Once it freezes inside the pipes it stresses out the material, and then the pressure increases, as a result the pipe bursts at the point in which the ice is pressing most against.
So, to keep this from happening we recommend keeping the temperature of your house to above freezing. Moreover, what works best is to insulate exposed pipes both indoors and outdoors.
There are plenty of commercial insulators that snap over your pipes. These solutions are inexpensive, and they are not as halting as a water damage incident is.
We know that accidents happen despite how we try to prevent them, so you can be rest assured that 911 Restoration of Central New Jersey will be here you. Call when you need us at 201-241-3113.
IICRC Certified Water Repair Team
When you call the water solution team at 911 Restoration of Central New Jersey, be confident that we will have the answer to the problem you are facing.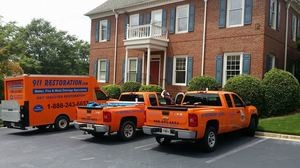 "Homeowners need a team that they can trust, and are able to solve the most detailed of water damage they are facing such as flood cleanup, roof repair, and even mold decontamination," says Adi.
For these reasons, his entire staff knows how to use the most industrial- grade, and cutting-edge tools, to inspect damage and then remediate it. Bringing back your peace of mind is all dependent on you knowing that we are going to make everything better.
For example, every customer is entitled to a free water damage estimate, in order for them to understand the true extent of what they are facing. One reason we do this is because we believe that everyone should be able to make a fully informed decision—it's the key to peace of mind.
If you are need of a fresh start, give our water damage Old Bridge team with 911 Restoration of Central New Jersey a call because we know how to make any water damage situation better and we want to help you today! Call us at 201-241-3113 and see how we can help.