Water Damage Montclair
Water damage is defined as the invasion of your home or business by any amount of water and it must be cleaned and repaired quickly before it gets out of control and causes more destruction which will also cost more in the long run and this is why our water damage Montclair experts and 911 Restoration of Central New Jersey promises to be available 24/7 to dispatch our crews to your emergency before it gets worst. Our water removal experts respond within 45 minutes because we understand that in these types of situations, minutes truly matter a lot.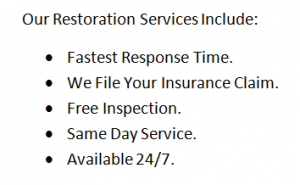 Water damage services are an absolutely critical step in making sure that the worst of the destruction is behind you and that you can get back to living in your home quickly and at as little a cost to you as possible. This is one of the many quality reasons why our water damage Montclair pros will provide you with same day service and even a free inspection to fix your home as soon as possible and as affordably as we can make it. Our pros will get to work from minute one on the scene of your catastrophe with gargantuan sump pumps and extremely long hoses to extract and transport the water far away from your home. Then we will utilize the latest drying technology to make absolutely sure your domicile is water vapor free and this will help to keep it mold free too. If you have water damage coursing through your living room and you need to know it will cause mold, so contact our water damage Montclair technicians and 911 Restoration of Central New Jersey today!
Does Water Damage Cause Mold Growth?
Water damage Montclair pros like the expertly trained variety that we employ with 911 Restoration of Central New Jersey are truly the best in the business and we know that water left to fester in your place will cause madding levels of mold growth to take hold. This is a very good reason why all of our techs are IICRC certified so that we can tackle any mold critical situation you are presented with.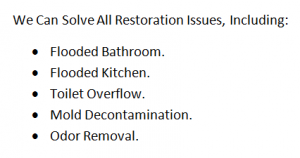 Our water damage Montclair specialists are aware that unfortunately many people out there in the world, including those with existing mold problems don't appreciate how it is truly a health risk that needs to be taken care of by pros. This is because if you inhale mold it may end up causing you severe congestion or even respiratory problems if you have a weaker immune system or if you are elderly or even very young without built up immunities yet. Our pros are licensed, insured and bonded to handle any type of mold growth or fungus infestation and to destroy them with ease and alacrity. If your home is a mold breeding ground and you want to have the problem source fixed, get a hold of our water damage Montclair experts and 911 Restoration of Central New Jersey!
Who Do I Call For Water Damage Repair?
Water damage Montclair pros such as our master techs with 911 Restoration of Central New Jersey are fully capable of handling any crisis that we have ever been shown and this is one of the many positive reasons you need to call us. Our water damage Montclair techs have all gone through rigorous training and certification courses that allow us to handle anything we find. We are also working with all insurance companies too. This makes it easier for us to offer you a very affordable price for all of our excellent work and services that we provide. Should you find that your home is about to be the edge of a new river, call the best water damage restoration company in Montclair to push it back for you and take care of the aftermath, then call our water damage Montclair crew with 911 Restoration of Central New Jersey!
What Is The Best Water Damage Restoration Company In Montclair?
Water damage Montclair experts like ours with 911 Restoration of Central New Jersey have maintained business on the technological edge of the industry with over 35 years of experience. This is a primary reason we are the best company in Montclair, or anywhere else. We pride ourselves on our dedication to customer service; we value professionalism to such an extreme degree. In reality we are so dedicated to improving our craft that we even research the street locations and routes of an area to better improve our response time to your home. We also study the history of a location so that we can provide a predictive approach to know where might be a location of future water damage problems by studying those that have happened in the past. Just the other day our water damage Montclair techs learned that the population and population density of the area is actually receding and this is great for the availability of parking and the like in the area, but the lack of revenue for the township means that the water infrastructure, aging as it is, is in danger of failing at any time. This can send unwanted water into residents homes and business and create chaos in the process. We always put the customer first and for residents who want the waters in their living rooms to recede quicker, we are here for you around the clock. Should you realize your home has fallen in the midst of a water damage crisis and allow the best to deal with all of the repair work and cleanup for you, and contact our water damage Montclair professionals at 911 Restoration today!