Water Damage Medford
Water damage is a property disaster that introduces floods to your home and water removal needs to happen immediately to prevent further emergencies, so our water damage New Jersey company is available 24/7 to dispatch our water damage Medford crew at a moment's notice. We respond within 45 minutes of your call to quickly remedy the destruction caused by rain leaks, plumbing failure, and water heater floods. We know the devastating effects of water damage, so we use the latest drying technology to quickly and professionals resolve the situation. We are licensed, insured, and bonded in all disaster restoration services so that we can provide you with all the resources you need to reclaim your home.

Our water damage Medford experts has over 35 years of experience in the restoration industry, so we have seen all sorts of floods. From storms to fire sprinkler malfunctions, we are prepared to get your building back to tip-top shape. 911 Restoration New Jersey will arrive as soon as possible to start water damage restoration services. Call our water damage Medford team when you find leaks in your home.
Who do I Call for Water Damage in Medford?
Call our water damage Medford specialists for an affordable price on fast, professional water damage restoration services when your property floods. If any moisture remains after drying and clean up, mold will likely form in place of the floods, so it is essential you recruit a professional company such as 911 Restoration Medford to handle the disaster. We are IICRC certified to offer the best water removal, mold remediation, and sewage backup cleanup. Our water damage Medford professionals do everything in our power to give you a perfect home once again.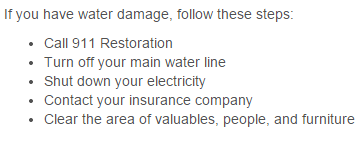 Call our water damage Medford technicians so that we can get on the road and start the water extractions sooner rather than later. While on the phone with 911 Restoration New Jersey, we will walk you through the steps of turning off your water line, electricity, and gas to secure your property against further damage. Shutting down your utilities prevents more water from getting into your house, electrical outlets from short-circuiting, and gas lines from rupturing. If you are unable to complete these tasks, we will do it for you upon arrival. In addition, we are working with your insurance company and will file your claim to get you the most from your homeowner's insurance policy, so call our water damage Medford staff today.
Does Homeowner's insurance Cover Water Damage?
Homeowner's insurance covers water damage Medford services for houses that are well maintained, because many policies include a negligence clause. In order to avoid your insurance company refusing the claim due to negligence, you have to act proactively by installing a sewage back flow valve, repairing plumbing leaks, and cleaning your rain gutters. A sewage back flow valve prevents toilet overflow and other returning water fiascos that pump the home full of dangerous black water that will require extra sanitation efforts on the part of our water damage Medford professionals. Plumbing leaks that last more than a day will not be covered by homeowner's insurance and will likely spawn mold spores, which will require mold remediation services. Similarly, rain leaks present mold dangers as well as threatening roof collapses by rotting the wooden support beams. Luckily, 911 Restoration New Jersey has over 35 years of experience in all disaster restoration services, so we can handle your water extractions, mold decontamination, and full reconstruction if necessary. We are the best water damage Medford company, so call us to file your insurance claim, clean up your black water spills, and return peace of mind to your property.
What is the Best Water Damage Company in Medford?
The best water damage Medford company is 911 Restoration because we are working with all insurance companies to reduce the hassle on your part and provide you with an affordable price on expert water removal. We are available 24/7 to offer same day service water extractions from experienced technicians. Our water damage Medford personnel utilize the latest drying technology and best remediation techniques on all disaster restoration services. We are prepared for any damage your home sustains. Medford is known for the Medford lakes, including Lake Mishe-Mokwa, Birchwood Lake, and Lower Aetna Lake. While these wonderful bodies of water establish breath-taking scenery, they also conjure major storms through the evaporative properties they provide to the environment. Those storms can damage your roof and flood the city's water line. If this happens to you, call our water damage Medford experts for a fresh start and see why we are the best water damage restoration company!