Water Damage Long Branch
Water damage can destroy homes and shut down businesses. In order to save your property after floods ruin it, contact 911 Restoration of Central New Jersey and our water damage Long Branch crew for same day service. We respond within 45 minutes with the latest drying technology to start pumping water from your home as soon as possible. We have over 35 years of experience to perform the fastest, most thorough water removal. We are licensed, insured, and bonded in all of the following:
Water Extractions
Disaster Restoration
Mold Remediation
Sewage Backup Cleanup
We are familiar with all aspects of water damage so that we can better serve the houses in the community. Often one disaster will lead to another. For instance, a pipe burst that saturates drywall will leave behind enough moisture to grow mold. Our water damage Long Branch team provides expert drying and clean up services so that you do not have to worry about these secondary threats. We will even walk through a free inspection looking for mold at the end of our job. If the fungus has taken root, we will get straight to work on mold decontamination. The sooner you get a hold of us, the less damage your building will sustain.
After Hurricane Sandy decimated the New Jersey shoreline, including the Long Branch pier, it is obvious how dangerous it can be to live close to the ocean. When storms cause rain leaks and other disasters in your house, call us for water damage restoration service at an affordable price.
Who do I Call for Water Damage Restoration?
When you need water damage restoration call our water damage Long Branch experts for same day service. We know how fast floods can spread and work hard to get on scene in time to mitigate the damage. We will even walk you through how to shut down your water line to prevent further damage.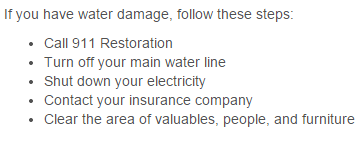 After we complete the job, we will check for mold and show you how to avoid future disasters. A few tips and tricks to protect your home include insulating your plumbing, cleaning rain gutters, and installing a sewage back flow valve. Pipe insulation prevents pipe burst from freezes. Clean rain gutters and properly aligned downspouts are ideal for reducing the threat of rain leaks from storms. A sewage back flow valve will prevent plumbing leaks and toilet overflow resulting from returning water after heavy storms or other floods. Call our water damage Long Branch specialists when you need water extractions and we will file your insurance claim for you.

How do I File a Water Damage Claim?
Our water damage Long Branch staff will file your water damage insurance claim for you. We always put the customer first, so we deal with the insurance company to reduce the stress on your shoulders. We know how devastating water damage can be, so we work hard to keep your hassle minimal. We have over 35 years of experience working with all insurance companies, so we know how to get you the most from your coverage. As long as you stay on top of regular maintenance, you should have no problem collecting all that you are entitled to. However, if leaks last more than 24 hours or started from rising external water, it is possible for your claim to be denied. We offer an affordable price so that you can still get the emergency services you need even if your insurance denies your claim. It is important to do your best to stay within the confines of your policy, though, because according to the Insurance Information Institute water damage is one of the top reasons for insurance loss. When you are looking for drying and clean up from the best water damage restoration company call our water damage Long Branch technicians.
What is the Best Water Damage Restoration Company?
The best water damage restoration company is 911 Restoration because our water damage Long Brach operatives are available 24/7 and respond within 45 minutes to provide same day service. We are licensed, insured, and bonded with over 35 years of experience in all disaster restoration services. Our water damage Long Branch company knows what it takes to return your home to perfect condition. When you need a fresh start after floods in the city of Long Branch call 911 Restoration.