Sewage Backup Cleanup Malboro Township
Sewage Backup Cleanup is dangerous because it can cause rashes, indigestion, and even death if not handled properly.
Our sewage backup cleanup Marlboro Township crew has over 35 years of experience saving homes from returning water and 911 Restoration of Central New Jersey uses the latest drying technology to make our water removal jobs safe, fast, and thorough. We are available 24/7 to provide you with expert water cleanup and we are licensed, insured, and bonded in all of the following:
Sewage Backup Cleanup
Mold Remediation
Disaster Restoration
Water Damage Restoration
We offer professional disaster restoration services that run the gamut from dealing with a toilet overflow to mold decontamination because we know that these types of emergencies are rarely the extent of the problem. When we finish water extractions we move on to a free inspection that searches for mold hiding in the wake of floods. Living in Marlboro Township makes us particularly susceptible to plumbing leaks and pipe bursts because we get an average snowfall of 23.2 inches coupled with about 47 inches of rain. These two weather related incidents put together create a high probability of floods in the city's water line. In addition, nearly half the year is considered freezing, as 179 days fall into this category. Freezes lead to washer bursts, ruptured hoses, and other disasters. When any of these happens to your property, call us for sewage backup cleanup Marlboro Township services at an affordable price.
Who do I Call for Sewage Backup Cleanup?
Call our sewage backup cleanup Marlboro Township team when yur property succumbs to a toilet overflow, water heater flood, or fire sprinkler malfunction. These events include either black water or gray water and both types of returning water can carry significance diseases. It is bet to allow 911 Restoration Marlboro Township to deal with the event. We respond within 45 minutes to help you with superb drying and clean up services.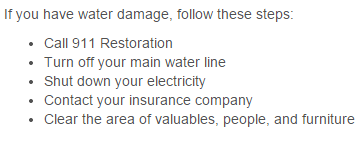 We are working with all insurance companies and will file your water damage claim because we know how stressful plumbing leaks can be without the added hassle of insurance paper work. One of the reasons why you want our sewage backup cleanup Marlboro professionals to help you deal with the insurance companies is that , according to the Insurance Information Institute, water damage is one of the most common forms of insurance loss. We will make sure you get the coverage you deserve because we always put the customer first.
When you need a fresh start in the Marlboro Township, call our sewage backup cleanup Marlboro Township specialists for same day service water removal.