Sewage Backup Cleanup Jackson
Sewage backup cleanup needs to happen quickly after a toilet overflow or pipe burst, so 911 Restoration of Central New Jersey will be there as soon as possible. When you need water removal, choose the sewage backup cleanup Jackson team because we can handle:
Water removal
Disaster restoration
Mold Decontamination
We offer all disaster services so that we can be prepared for the worst problems. We know that black water can be deadly, so we act quickly to get on scene and start pumping water out. We will provide you with thorough water extractions. Jackson, NJ is a place of fun and excitement, as noted by the three Six Flags parks in the region, and its residents should never be bogged down by sewage backup. If a washer burst or ruptured hose destroys your home, call for sewage backup cleanup services.
Who do I Call for Sewage Backup?
If sewage backup floods your home you need our sewage backup cleanup Jackson crew for drying and clean up because this particular water damage is especially dangerous. Category 3 water contains excrement and can have lasting consequences if not handled by 911 Restoration Jackson. We wear full hazmat gear when working on a disaster containing black or gray water in order to lower the danger.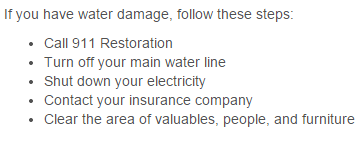 We will make sure your home is brought back to its original condition. The best part about our disaster restoration services is that we work with your insurance making sure you get an a price you can afford on sewage backup cleanup Jackson services. We will even provide a free inspection to check for mold afterward and teach you preventative maintenance to protect your house.  These chores include installing a sewage back flow valve, insulating your water line, and cleaning your gutters. You should also keep your sump pumps in good working order. The Insurance Information Institute states that water damage provides frequent insurance loss. We help you file your claim so that you get the most coverage possible from your homeowner's insurance policy.
When your home suffers from plumbing leaks or other disasters call our sewage backup cleanup Jackson experts for help in the city of Jackson.