Water Damage Manahawkin, NJ
Water damage can cause mold growth if not remediated professionally, so our water damage New Jersey company along with our expertly trained water damage Manahawkin crew is available 24/7 to perform advanced water extractions while our mold removal Manahawkin experts test for spores. When we perform our water damage restoration services we do so by first inspecting the cause of the flooding and while one team member begins pumping water out, the other gets to work on our free inspection to find the mold infestations that all too commonly accompany floods. Water damage from rain is all too common in New Jersey. Our water damage Manahawkin team says these types of leaks are a leading cause for mold. You can help prevent such a disaster by doing the following:
Check roof for curling, cracked or missing shingles
Ensure landscape does not slope into the home
Make sure sump pumps are working
Clean out gutters
Aim downspouts out and away from the home
Check for moisture in window and door frames
We are licensed, insured and bonded in even the most advanced disaster restoration jobs when mold or a flooded home are in the mix. Always act fast when confronted with damage from storms, a toilet overflow, or any other type of water emergency. Call our water damage Manahawken professionals when you spot leaks and we respond within 45 minutes because we value professionalism.
Can Water Damage Cause Mold?
Water damage of all types can cause mold, and our water damage Manahawkin arrive within the hour because we understand time is of the essence. Outdoor mold spores are especially attracted to areas of your home that are higher in moisture, and that have poor air circulation. For example, a pipe leak in your drywall, or a water heater leak in your basement would be ideal places for our mold removal Manahawkin professionals to find toxic spores.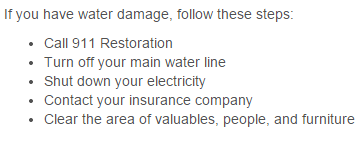 Call our water damage Manahawkin technicians as soon as you are safe from the healthy risks of returning water, and 911 Restoration will dispatch straight away. Before we arrive, you can shut down your water line, turn off your electricity and move your furniture to prevent further damage. Give us a call to file your water damage claim for homeowner's insurance because we always put the customer first!
Will Homeowner's Insurance Cover Water Damage?
Research our water damage Manahawkin staff conducted with the Insurance Information Institute shows your flood will likely be covered by insurance with a few stipulations. When violent rain storms flood your home you may need a supplemental policy. Furthermore, any negligence leading to water damage would likely cause a claim to be denied. For example, failing to replace 100 year-old clay pipes or flushing a diaper down the toilet would be regarded as negligent behavior. When it comes to protecting your home 911 Restoration of Central New Jersey is the water damage company in Manahawkin!
What is the Best Water Damage Company in Manahawkin?
911 Restoration is the best water damage company in Manahawkin because, when it comes to the best in customer service skills, our water damage Manahawkin guys are number one! We value professionalism, and we go above and beyond to make sure our clients are as comfortable as possible. We hold over 35 years of experience working with all insurance companies. We fight for your insurance claim. Our affordable price on all water removal jobs, makes it even easier to rely on our water damage Manahawkin crew to restore your home to a clean and healthy sanctuary. 911 Restoration makes the living space better than ever. Our water damage Manahawkin team loves this special community. Manahawkin is the gateway to Long Beach Island and local residents love it for its beauty and close proximity to other surrounding areas connected to route 72. Many scholars argue that its name means, "fertile land sloping into the water." Our water damage Manahawkin experts are dedicated to make sure your home does not slope into the perils of standing water. Call our water damage Manahawkin experts treat you to a fresh start after rains or plumbing failure damages your property.